Doing Research 2022 Archive
November 2022
SynBio summit brings science and business together
NU's research, translational excellence shines at inaugural Querrey InQbation Lab event, with Center for Synthetic Biology faculty engaging with market experts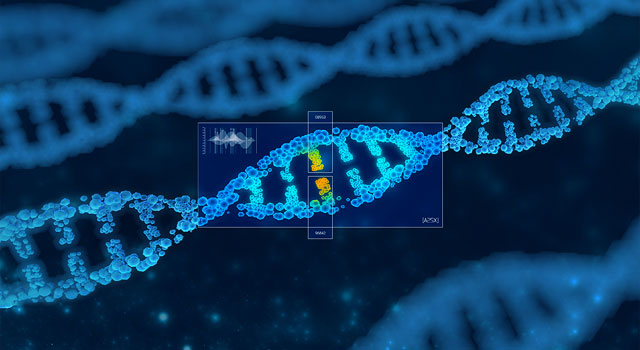 Calling synthetic biology the next "big, big area at Northwestern" and one that continues to "gain prominence and promise," Vice President for Research Milan Mrksich welcomed more than 120 participants to a daylong event focused on a field he has championed at Northwestern. "Synthetic Biology 2.0: What Comes Next" brought researchers and investment professionals together in Evanston on Oct. 26 for engaging panel discussions and networking. The event, spearheaded by INVO, part of the Office for Research, marked the first in a series of programs and activities planned for NU's recently launched Querrey InQbation Lab, a home for research innovation and translation. Wide-ranging conversations between scientists and venture professionals considered investment opportunities, hurdles, and the history and possible future of this interdisciplinary domain. The event also highlighted the key role that research universities like Northwestern play in creating and commercializing transformative knowledge. Mrksich and other faculty leaders associated with the Center for Synthetic Biology -- one of 35 University-wide research institutes and centers -- shared insights into a relatively young field that is thriving at Northwestern. More coverage from the event.
Global shipments and importing items
International shipments are subject to numerous export and import regulations. Many items require prior federal government authorization (e.g. export control licenses) and specific documentation. You may also need a Material Transfer Agreement to share, receive and protect materials. An MTA is a written contract that governs the transfer of research material between organizations. University personnel who engage in international shipping are responsible for complying with U.S. export control laws and regulations. Not following regulations may result in lost items or criminal or civil penalties.
Learn more
about MTAs or
email
us.
Procurement and Payment Services
offers general shipping guidance.
Export Controls and International Compliance
(ECIC) helps with import/export questions.
Research Safety
provides assistance and training to help comply with shipping regulations for biological, chemical or radiological materials. Contact ECIC Sr. Dir.
Amy Weber
with general questions.
New grant, video showcase ISEN excellence
Northwestern is among 29 groups backed by European Research Council Synergy Grants to tackle complex research questions. Recipients were announced Oct. 25. A six-year, $9 million euro grant was awarded to a team of four principal investigators, including Michael R. Wasielewski, the Clare Hamilton Hall Professor of Chemistry and executive director of the Institute for Sustain-ability and Energy at Northwestern (ISEN). He also is director of the Center for Molecular Quantum Transduction, a US-DOE Energy Frontier Research Center. Learn more. Other ISEN news includes a new video that explains the institute's strategy and how it strengthens NU's sustainability and energy research, education and engagement.
IPR event spotlights economy, education
Why do women have better educational outcomes than men? Why are men dropping out of the labor force? The Institute for Policy Research welcomed Brookings scholar and journalist
Richard Reeves
on Nov. 3 to discuss such issues. He spoke with IPR Director
Diane Schanzenbach
about his latest book, Of Boys and Men, which explores his thesis on why the modern male is struggling and what to do about it. You can also view a recent IPR distinguished
lecture
on U.S. inflation by
Raphael Bostic
, CEO and president of the Atlanta Federal Reserve Bank. Bostic is one of 12 regional Federal Reserve Bank presidents and the first African American appointed to lead a Federal Reserve bank.
CERES Change Network established
The SRA Transformation Program continues to make strides towards the adoption of CERES, which will replace InfoEd during spring 2023. To facilitate a smooth transition and ensure that all units are adequately prepared, the program has established a Change Network comprised of representatives from units across the university. Learn more about the Change Network.
NU partnership wins innovation award
Northwestern's Center for Water Research faculty, including center director Aaron Packman, have played a key part in a pioneering wastewater surveillance initiative that has helped better track the presence of the virus that causes COVID-19. Their research, notably statistical analysis and modeling to improve the predictive ability of the wastewater measurements in tracking outbreak dynamics, has contributed to a larger regional effort known as the Illinois Wastewater Surveillance System. This is a collaboration between the Illinois Department of Public Health and Discovery Partners Institute, with which Northwestern is affiliated. The DPI coalition was among the first in the nation to reliably analyze samples of raw sewage to detect SARS-CoV-2 RNA in 2021. On Nov. 16, this project was recognized with a Chicago Innovation Award. Congratulations to the NU team and all involved in this breakthrough research! Learn more.
Fostering greater research inclusivity
Increasing equity in research is a shared responsibility. The Fostering Accessibility and Inclusivity in Research (FAIR) Workgroup is an IRB Office initiative that seeks to help research teams increase the accessibility, and therefore, equity, of their studies while following the ethical principles and regulations that govern the IRB. Please watch for future announcements and initiatives and visit the FAIR page for additional information.
AHA/ACS reporting requirements
All current and future AHA/ACS awards must complete an annual Intellectual Property report for each award. In Proposal Central the Technology Transfer Office (TTO) should be listed as Andrea Minogue for all current and past awards to ensure this reporting can be completed. If it is listed incorrectly a Request Personnel Change must be filled with Proposal Central. Please contact Andrea with questions.

Northwestern alums launch CIERA gift challenge
New and longtime donors to Northwestern's Center for Interdisciplinary Exploration in Astrophysics (
CIERA
) enjoyed exclusive access to one of the world's 10 largest telescopes at the MMT Observatory in southern Arizona in October. During the tour, CIERA supporters and NU graduates Fran ('72) and Paul ('71,'79 MBA) Kent announced a 2022-23 academic year matching challenge to further CIERA's mission. The Northwestern alums said they were looking for ways to increase their own philanthropy while also helping to increase CIERA's visibility and encourage other alumni and friends of Northwestern to support cross-disciplinary research at the institute.
Learn more
.

Insider trading and clinical drug trials
Associate Vice President for Research Crista Brawley recently co-authored an article about insider trading in the context of medical academic settings and clinical drug trials. The article suggests that greater training and understanding of the law can help mitigate the risk of violations while also supporting productive and proper scientific communications that help advance clinical trials and drug discovery. The authors write: "Because the potential reach of the law in connection with clinical trial information is not fully appreciated by everyone in this industry, not only sponsors but also research institutions must institute or upgrade their written insider trading policies and training." Learn more.
Edem's contributions lead to promotion
OR is pleased to announce that Sr. User Support Specialist Edem Bassey Edem has been promoted to manager of OR IT infrastructure, effective Nov. 14. Edem joined Northwestern in 2016 and has expertly managed software implementations, as well as complex office moves and a robust and successful IT pandemic response. Edem has 20+ years of experience supporting company goals through IT best practices, team leadership and communication. He served on OR's Psychological Safety, Empowerment and Autonomy Committee, is currently a member of NU's YourLife Wellness Champions and is a mental health first aider. Edem earned his BA in computer science from Obafemi Awolowo University. OR is grateful for his contributions and team-oriented, inclusive approach.
October 2022
Protecting against improper foreign interference 
A new working group and resource page help Northwestern researchers remain compliant with federal security mandate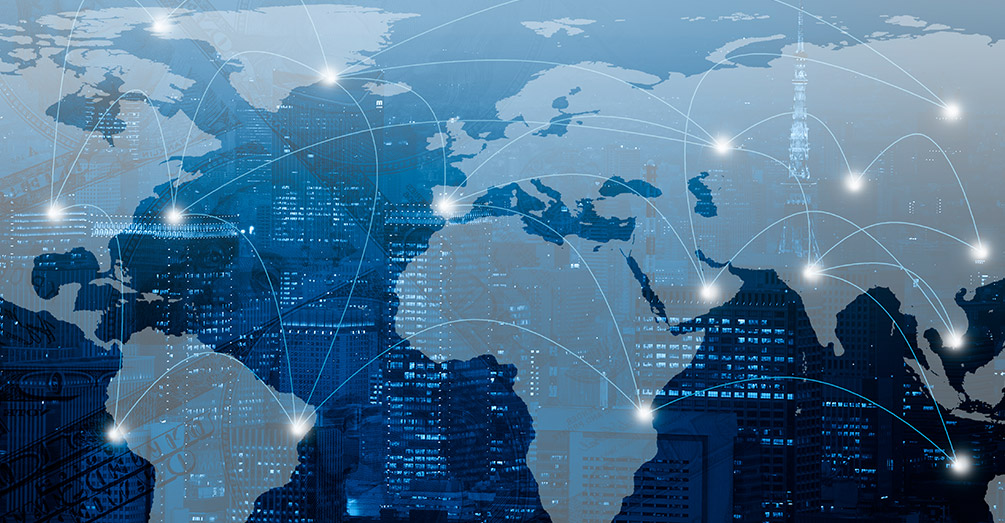 International collaborations are critical to creating breakthrough advances, and Northwestern values global partnerships. However, the federal government continues to have concerns about improper foreign interference in research, and federal agencies continue to increase review requirements.
Under National Security Presidential Memo-33 (NSPM-33) guidance issued by the White House Office of Science and Technology Policy earlier this year, all federal research funding agencies are required to strengthen and standardize disclosure policies. For example, the Department of Defense's Army Research Lab updated its Broad Agency Announcement in June to include stronger requirements regarding disclosure (including potential criminal penalties for failure to comply). NU has seen increased restrictions placed on award personnel from some DoD entities because of their national security reviews. Federal requirements vary by agency (DoD, DoE, NIH, NSF, etc. ) so it is essential to review award terms and guidance and to ask questions. Sponsored Research provides updated information as agency requirements evolve; refer to that site for current requirements.
To meet the new federal security mandate, OR has formed an NSPM-33 Working Group. The team will help Northwestern implement NSPM-33 guidance, including: meeting updated disclosure requirements; using digital persistent identifiers; and providing training, where applicable. Senior Director for Export Controls and International Compliance Amy Weber is leading the group along with Assistant VP for Sponsored Research Shandra White, Assistant VP of Risk and Compliance Kate Cosgrove Booth from Conflict of Interest, and other NU stakeholders. The group's kickoff meeting occurred Oct. 7. To learn more about expectations and support available to NU researchers as they navigate this regulatory environment, see the Improper Foreign Influence Resource page or contact Amy Weber.
New controlled substances policy, website
The Office for Research and its Center for Comparative Medicine (CCM) have developed a University-wide Policy on the Use of Controlled Substances in Research. The policy aims to ensure that any nonclinical research activities at Northwestern involving controlled substances comply with relevant state and federal regulations. A new website provides detailed guidance to assist researchers with better understanding policy expectations and procedural requirements, such as licensure, security and storage, disposal and more. Also, a Controlled Substance Compliance Coordinator now serves as a resource for those conducting research with controlled substances. Those engaged in such research should review the policy.
CLEAR highlights: CERES funding proposals and common disclosure forms
The October CLEAR Meeting offered a first look at the CERES funding proposal workspace, including navigation and workflow, and featured a system walk-through. The meeting also included a preview of forthcoming NSF PAPPG updates and a discussion of the "For Comment" Common Disclosure forms being developed in response to NSPM-33 implementation guidance. Visit the 2022
presentations page
to access the webinar recording and presentation slides and to register for the December CLEAR Meeting, which will include an overview of agreements in CERES.

Business development and strategy focus in INVO 
INVO is pleased to announce Katie Butcher as its new director of license strategy and business development. She will serve as a strategic partner to INVO's executive director, analyzing business impacts and risk-management for license agreements. This role collaborates with the senior director of invention management, the invention management team, INVO Operations and all current and potential licensees to craft agreement terms and negotiate license language that support INVO's central mission. She also will work with the executive director of the recently created InQbation Lab to develop and launch outreach programs that will support and educate NU faculty, students, startups and community members regarding development of license agreements, compliance and financial metrics.
New TTM Lab director
After 28 years of distinguished leadership, Lynn Doglio, PhD (pharmacology), is stepping down as director of the Transgenic and Targeted Mutagenesis Laboratory (TTML), a core facility and part of the Center for Genetic Medicine. Doglio, who led TTML from its inception, plans to retire. Doglio is succeeded by Styliani (Stella) Markoulaki, PhD, who joins Northwestern as research professor of cell and developmental biology from the Whitehead Institute of Biomedical Research at MIT. "I am honored and excited to join Northwestern's TTML and Cell and Developmental Biology department," Markoulaki said. "I am stepping into big shoes with a hope to continue the important work that TTML's founding director started and spearheaded." Full story.
Award bolsters research data sharing
A new award to Feinberg School of Medicine and the European Organization for Nuclear Research (CERN) will enhance capabilities of research data management and sharing for National Institutes of Health-funded researchers through the Generalist Repository Ecosystem Initiative (GREI), led by the NIH Office of Data Science Strategy. This work establishes a common set of cohesive and consistent capabilities, services, metrics, and social infrastructure across repositories, and facilitates the adoption of FAIR principles to better share and reuse data.
OFAC regulations and University activities
If you engage with people or organizations located in heavily sanctioned countries (HSC) such as Cuba, Iran, Russia, Syria, or certain regions in Ukraine, the  Export Controls and International Compliance Office (ECIC)  can help you navigate Office of Foreign Assets Control (OFAC) regulations. If you plan to participate in University-related activities in a sanctioned country or with individuals or entities (even virtually) in sanctioned countries, you may need prior U.S. federal government approval.  For example, you may need a federal license to participate in an online conference (even from the U.S.), perform University work or engage with individuals or organizations who are in a sanctioned country, or allow students to take online courses remotely from an HSC. OFAC issues civil and criminal penalties for noncompliance, so contact ECIC for assistance. Learn more.
Roles and responsibilities page revised
Everyone engaged in Northwestern's research community is responsible for upholding high ethical standards and professional conduct as defined in University policies, procedures and guidelines. A revised website clarifies expectations and outlines the responsibilities of key stake-holders conducting or supporting research. This
resource
provides an overview of how our academic community works together to achieve research excellence. Have a look to see how your contributions create a better Northwestern.
September 2022
Northwestern rocket blasts off, seeking answers about stellar dynamics...and life on Earth
Successful launch gathers data on supernova remnant by using X-ray imaging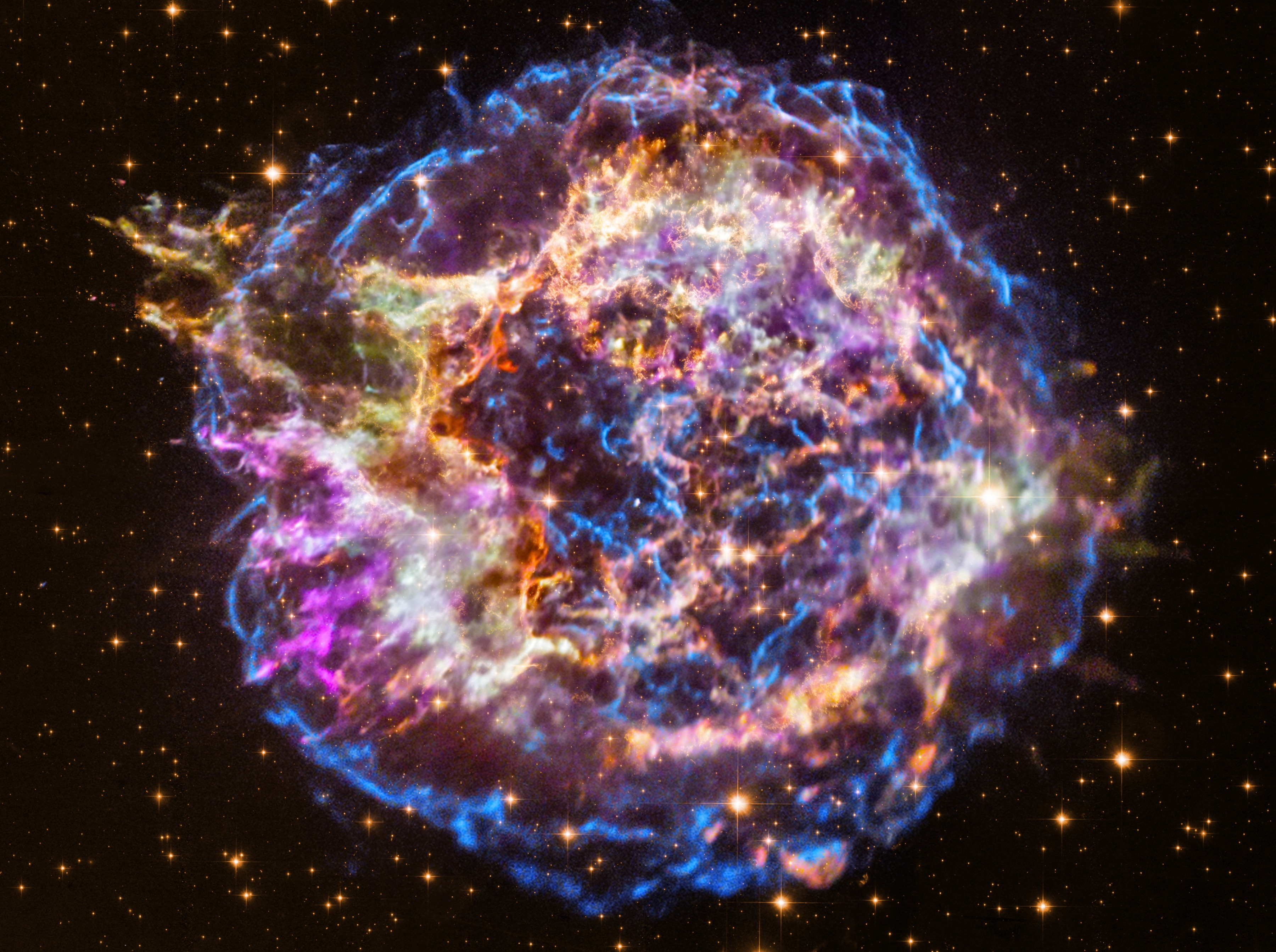 On Aug. 21, a NASA-funded Northwestern astrophysics team led by Enectali Figueroa-Feliciano (physics and astronomy) successfully launched a sounding rocket from the White Sands Missile Range in New Mexico. The team had been developing the "Micro-X" rocket over the past decade. Designed to fly 150 miles into space and then return to Earth for reuse, the six-story rocket contained an X-ray telescope and detectors trained on the remnants of supernova Cassiopeia A, a star in the Cassiopeia constellation that exploded about 11,000 light-years from Earth. The rocket spent about 15 minutes in space, just time enough to snap an image of the supernova's remains. The team retrieved the rocket and data and are now analyzing the findings at Northwestern. By examining these explosions, researchers seek to better understand stellar lifecycles and how "star stuff" forms planets. Learn more.
NU leads new $10M national energy center
Northwestern has received $10.35 million over four years from the Department of Energy to lead an Energy Frontier Research Center (EFRC) focused on developing hydrogen-based energy technologies, an increasingly important need in the face of climate change. The Hydrogen in Energy and Information Sciences EFRC is one of 43 EFRC awards announced Aug. 25, bringing together scientific teams to perform basic research in energy sciences with scope and complexity beyond what is possible for individuals or small groups. NU materials scientist Sossina M. Haile is the PI of the new center, which includes five other University faculty members and six researchers from other institutions as co-PIs. Learn more.
Physicist Jens Koch named SQMS deputy director
Northwestern physics professor Jens Koch will serve as the next deputy director for the collaboration of 23 partner institutions that make up the Superconducting Quantum Materials and Systems Center (SQMS) hosted by the U.S. Department of Energy's Fermi National Accelerator Laboratory. Already contributing to the SQMS collaboration as a principal investigator, Koch now brings his world-leading expertise in quantum information science, as well as his academic experience, to the SQMS leadership team. SQMS was launched in 2020, with NU playing a major role in its formation. Today, the University is a core partner of the center, which supports research activities of over 400 members. Koch is stepping into a role previously held by NU physics colleague James Sauls, who will remain active at SQMS. Find out more.
Research funding hits new high
Northwestern continued its decade-long ascent in annual sponsored research funding, totaling $925.5 million from various sources to enable high-impact basic and translational work to thrive across the University. As fiscal year 2022 closed on Aug. 31, Northwestern's research funding had risen 3% over the previous year, driven by a 4% increase in awards. "Our disciplined, strategic approach to developing the research enterprise has already positioned Northwestern among the world's best academic institutions," said VPR Milan Mrksich. "We will continue to advance our strengths, explore new opportunities where we can be leaders, and remain committed to solving crucial challenges"  Full story.
NSF grant forges new 'HAMMER' ERC
A large multi-institutional collaboration, including Northwestern, has received $26 million from the National Science Foundation (NSF) to launch a new advanced manufacturing research center. The NSF grant will fund the new center across five years, with the ability to renew for another $26 million for an additional five years. Called the Hybrid Autonomous Manufacturing, Moving from Evolution to Revolution (HAMMER), the new Engineering Research Center (ERC) will develop and implement new manufacturing technologies for agile, high-performance and quality-assured components. HAMMER expects to shift the calculus of U.S. competitive advantage, rebuild the U.S. industrial base, create new high-skilled, highly paid jobs and unleash American ingenuity by providing cost-effective, local and customized production. Engineering faculty Jian Cao and Wei Chen are playing leadership roles in the new initiative.
New metrics available in NU Scholars
Northwestern Scholars now includes h-index metrics on faculty profile pages. The h-index is an author-level, citation-based metric and is a useful index to characterize the scientific output of a researcher. To learn more about this additional metric, visit the Scholars FAQs.
Staff promotions highlight excellence
 The Research Safety team recognized two of its staff members with recent promotions. Reginald (Reggie) Blythe is now Senior Director of Research Safety, while Benjamin Williams is now Director of Research Safety for the Evanston campus. A Chicago native and NU employee for 17 years, Blythe earned a bachelor's degree in chemistry from UIUC and an MBA from Purdue. Executive Director of Research Safety Michael Blayney called  Blythe a "thoughtful and effective leader" and credits him with playing a "vital role in the transformation of University research safety." In his new role, Blythe will manage the inspection and oversight for lab and radiation safety. Supporting these efforts is Williams, who joined NU in 2019 and has served as chemical hygiene officer for the University, a responsibility that will continue as part of his portfolio. Williams earned a PhD in inorganic chemistry from Bryn Mar and was a postdoctoral fellow at New Mexico State before completing a master's degree in environmental health science from Johns Hopkins. Blayney praised Williams as an exceptional teacher, mentor and leader who is an "outstanding health and safety professional" who will keep contributing to the research safety field nationally and globally. Congratulations, Reggie and Ben!
Sponsored Research has a new digital home
The Sponsored Research website has moved to a new home with a new address, located here. Previous website pages have been redirected, but you are encouraged to update your bookmarks ASAP. As part of this project, SR also has launched a redesigned Performance Indicators page that displays key metrics for transaction types and features an updated layout and more robust data visualization.
New and updated guidance available
The IRB Office has released new Guidance on Suicidality in Human Research Protocols (HRP-1915), which details researcher responsibilities when suicidal ideation/behaviors are identified. We also made substantial, user-friendly changes to the Human Research Determination Form (HRP-503). Use this form to help determine if and when a study involves human subjects research as defined by federal regulations.  Other updates include Supplemental Consent Language (HRP-1722), which contains Social Behavioral research-focused suggested consent language that research teams can use within their informed consent form. Based on input from the NU research community, we also updated our Consent and HIPAA pages, reformatting, improving and condensing the content. The new pages are Consent & Waiver of Consent and HIPAA, PHI, & PII.  Find additional details about these updates here. You also can find monthly IRB Office news, updates and announcements here. 
ISEN plan wins PR honors
 The Institute for Sustainability and Energy at Northwestern's (ISEN) 2021-2025 Strategic Plan received an Award of Excellence in the 2022 Public Relations Society of America (PRSA), Chicago, Skyline Awards program for best use of print/online publishing. PRSA Chicago's annual Skyline Awards are Chicago's premier public relations and communications awards competition, celebrating creativity and innovation in public relations and showcasing business impact and results. Review ISEN's award-winning plan here.
Chemistry of Life Processes leader sketches proteomics history
With researchers touting success in sequencing the human genome's remaining gaps, an emerging frontier is proteomics: identifying and studying an entire set of expressed proteins in the human body and other organisms. The Aug. 31 issue of JAMA features a brief history of Proteomics, including a Proteomics 101  video by Chemistry of Life Processes Institute Director Neil Kelleher.
Northwestern faculty shine at TEDxChicago
Social psychologist and Institute for Policy Review fellow Mesmin Destin (psychology) delivered a presentation at TEDxChicago on Sept. 10. Destin discussed how appreciating people's backgrounds and identities can affect their success, health and well-being, work with implications for the design of learning environments. Two other NU faculty members — Manijeh Razeghi (electrical and computer engineering; director/founder of the Center for Quantum Devices) and Michael Jewett (chemical and biological engineering and director of the Center for Synthetic Biology) — also spoke at the event. Razeghi shared insights about semiconductor science and quantum materials and devices, while Jewett outlined the technology and promise of synthetic biology.
August 2022
Office for Research-led internship program spurs scientific excitement
Inaugural student cohort concludes immersive summer research experience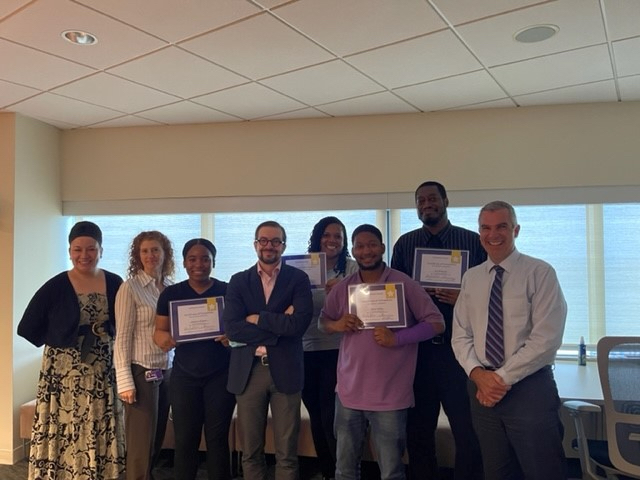 Six students from Chicago State University recently concluded a successful 10-week paid summer internship at Northwestern, working primarily on biomedical research in NU's core facilities. The program, developed by the Office for Research, aimed at providing greater access to the University's laboratories while helping expand career opportunities for participants. The summer experience included recognizing the inaugural cohort of interns during a July 27 celebration featuring remarks by Feinberg's Dr. Clyde Yancy, who shared powerful insights about how to pursue careers in medicine and science. Intern Darcae Holmes worked in the NUSeq core and said the internship gave him a stronger understanding about the transition between completing college and starting work in a scientific field. "No matter how many lessons I mastered in class, the experience of implementing those lessons is what truly stuck in my head for a lifetime," said Holmes. "The core facilities gave me the bridge to connect all the classroom information with the practical skills needed to work in the facilities." Similarly, intern Korvell Russell said it was "amazing to be so close to scientists on the cusp of discovery." He worked in the Skin Tissue Engineering and Morphology core in the SBDRC, where he isolated primary keratinocytes from neonatal tissue, generating 2D human skin cultures and 3D skin organoids and conducting immunofluorescence staining. "What I found compelling about my experience here was how impactful my contribution could be," said Russell, who added that his internship deepened his understanding of medical research and sparked a genuine interest in dermatology. Russell's project was featured at the SBDRC External Advisory Board meeting. The interns cited the program's strong mentorship component as especially valuable. Andy Ott, director of Core Facilities Administration, and Aisha Ghori Ozaki, director of Diversity, Equity and Inclusion, were among those championing the internship with Vice President for Research Milan Mrksich, Sr. Associate Vice President for Research Ann K. Adams, and members of the core facilities. OR expects to build on the success of the inaugural program. Pictured above from left: Bethany E. Perez White (dermatology professor), Constadina Arvanitis (cell and developmental biology research professor), intern Mahtyerra Simmons, Eric Wayne Roth (NUANCE microscopy specialist), interns Ebony Banks, Darcae Holmes, Korvell Russell and Andy Ott (CFA director). Not pictured: interns Carlette Yvette Johnson and Jazmine McDougald.
OR welcomes new export controls leader
Effective Aug. 22, Amy Weber has joined the Office for Research as senior director of Export Controls and International Compliance (ECIC), a unit that reports to Sr. Associate Vice President for Research Ann K. Adams and plays a major role in overseeing export compliance for the University. Amy brings rich technical and leadership expertise to support NU research: A career analyst in the intelligence community, she has more than two decades of professional experience--notably in various roles within the Federal Bureau of Investigation. Her analytical work with the FBI included assessing and countering undue foreign influence and espionage, as well as identifying risks and developing mitigation strategies. Export controls are an important mechanism to help safeguard national security and to promote foreign policy objectives. Because research universities conduct about 50 percent of the country's fundamental research, export control regulations are critical for faculty, students and others engaged in scientific investigation.
New URICA senior director joins OR team

The Office for Research is very pleased that, effective Aug. 1, Natalia Glubisz has joined the team as senior director for University Research Institutes and Centers, Administration and Operations (URICA). Glubisz reports to Associate Vice President for Research Fruma Yehiely and leads a team of five. The unit is responsible for overseeing research administration and operations of the University Research Institutes and Centers (URICs), interdisciplinary hubs currently totaling more than 35. URICs play a vital role in the research ecosystem, helping differentiate and elevate NU's research eminence. Glubisz brings more than two decades of experience in research operations and development, and a passion for collaboration. Most recently, she served as executive director for research strategy and administration at University of Chicago. Prior to that, she was research director in the Department of Internal Medicine at Rush University Medical Center, overseeing the largest operations portfolio, reflecting 14 divisions.
 Illustrating the invisible: new service through ANTEC
Over the past two decades, Mark Seniw has produced thousands of 2D and 3D scientific illustrations for research articles and presentations, journal cover submissions, grant proposals, news releases and websites. His latest highlight is designing the cover art for an upcoming issue of Advanced Biology, his 13th journal cover since 2011. Seniw enjoys the challenge of depicting new materials and concepts, and he offers his illustration services to the entire NU research community through the Analytical bioNanotechnology Equipment Core (ANTEC) at the Simpson Querrey Institute and. Learn more.
Call for proposals
The Center for Advancing Safety of Machine Intelligence (CASMI) has issued a call for proposals from NU researchers for initiatives that address key research goals and opportunities aligned with CASMI's mission to operationalize safety in machine intelligence. The program will fund individual projects for up to $275,000 for up to two years. Proposals are due Sept. 26. CASMI was launched as a collaboration between NU and UL Research Institutes to research the design, development and evaluation of AI systems to make them safe, beneficial and equitable. See proposal details and consider joining an information session.
Your study is complete. Now what?
Did you know you can close an IRB-approved study and continue to analyze and publish data? A study may be closed with the Northwestern IRB when enrollment/chart review is complete and data have been de-identified (no code/link exists to link identifiers back to the data). The Guidance on Study Closuredescribes when a study may be closed in eIRB+. Any non-exempt studies open in eIRB+ are subject to routine post-approval monitoring. Reference the Post-Approval Monitoring Page for more information. Please contact the IRB Office with questions.
CERES basic concepts and navigation
CERES core concepts were discussed in this month's CLEAR Meeting. Presenters discussed how proposals, awards and agreements have unique but procedurally related identifiers and how workflow progress will be transparent and easy to view. Between now and go-live in Spring 2023, CERES concepts will be covered in each CLEAR meeting and in a new Core Concepts Series held in alternating months. You can find slides and webinar recordings on the Sponsored Research website.
Engineered bacteria could improve health
Led by Center for Synthetic Biology engineer Danielle Tullman-Ercek, an interdisciplinary team has studied the components that make up the shell of bacterial organelles called micro-compartments. They discovered insights about how these organelles assemble and how their assembly affects their function in bacteria. Combining theory, computational modeling and synthetic biology, these developments could enable the repurposing of microcompartments to selectively fight disease or enhance sustainable biomanufacturing. The findings were published in Nature Communications.
Pioneering effort captures neutron star merger
For the first time, scientists have recorded millimeter-wavelength light from a fiery explosion caused by the merger of a neutron star with another star. The flash is also one of the most energetic short-duration gamma-ray bursts ever observed. CIERA astrophysicist Wen-fai Fongwas the PI on the research, which also included three postdocs and three graduate students from physics and astronomy, all affiliated with CIERA, Northwestern's University-wide hub for interdisciplinary astrophysics research. Learn more.
Well-deserved promotion for Kate Rice
The Corporate Engagement team is thrilled to announce Kate Rice's promotion to director of outreach and operations. Kate joined the team as a senior associate director in 2016 and has grown into a leader for this office. Her new role reflects her value to the team in strategic thinking, the implementation of new initiatives and skillful coaching and mentoring. She has proven herself time and again to be a great collaborator and valuable resource for colleagues. Congratulations, Kate!
Staff promotion boosts Northwestern Scholars
OR is excited to announce that Mayra Quintana has been promoted to program coordinator for Northwestern Scholars. Mayra joined the Scholars team in 2017 as a temporary employee before becoming a full-time program assistant. She has since taken on increased responsibility and this new role reflects her accomplishments and commitment. Mayra now serves as the primary contact for all Northwestern Scholars matters and is responsible for the program's daily administration. This includes leveraging Scholars data for biblio-metric analyses and decision making, implementing strategic goals for the program, coordinating technical needs and responding to stakeholder feedback. She will continue to collaborate with Research IT to maintain operations and perform system upgrades and improvements.
NU research: think 'local' to prevent network failure
Adilson E. Motter's research, supported by the Institute for Sustainability and Energy at Northwestern (ISEN), was recently published in the Proceedings of the National Academy of Sciences. The research team discovered a ubiquitous property of a complex network and developed a novel computational method that is the first to systematically exploit that property to control the whole network using only local information. Key to the new method is the researchers' accounting for the nonlinear nature of real network dynamics, and then using small control interventions to create a network-wide ripple that can rescue or reprogram it if trouble strikes. Find out more.
Congresswoman Schakowsky visits NU Proteomics
Chemistry of Life Processes Institute (CLP) director Neil L. Kelleher and members of the CLP and Northwestern Proteomics team welcomed U.S. Congresswoman Jan Schakowsky (D-IL-9) to Silverman Hall earlier this month to discuss the promise and potential of the Human Proteoform Project (HPfP). Other guests included Barbara Cornew, director of Cook County District 14, and Andrew Goczkowski, mayor of Des Plaines, IL. Full story.
NU faculty: CTA discounts available
NUCATS Institute has developed a research study recruitment toolkitthat can assist in promoting active clinical trials. The goal is to provide participant recruitment resources to study teams with distinct templates, instructions and editorial guidance to assist with implementation and dissemination of recruitment materials. Among the tools available are CTA advertising assistance, recruitment strategy and screening trackers, and many resources and guidelines.
Reminder: Central Utility shutdown
Northwestern's annual Central Utility Plant shutdown on the Evanston campus will take place from 5 p.m. Aug. 26 through 10 p.m. Aug. 29. The shutdown, needed for maintenance, will disrupt heating, hot water and air conditioning in buildings across the Evanston campus. The Chicago campus will not be affected. Campus will remain open, and you are encouraged to work with your supervisor to determine if your on-campus work schedule will change during these days.
July 2022
OR STAR event highlights staff contributions
In-person celebration recognizes individual achievements and office advances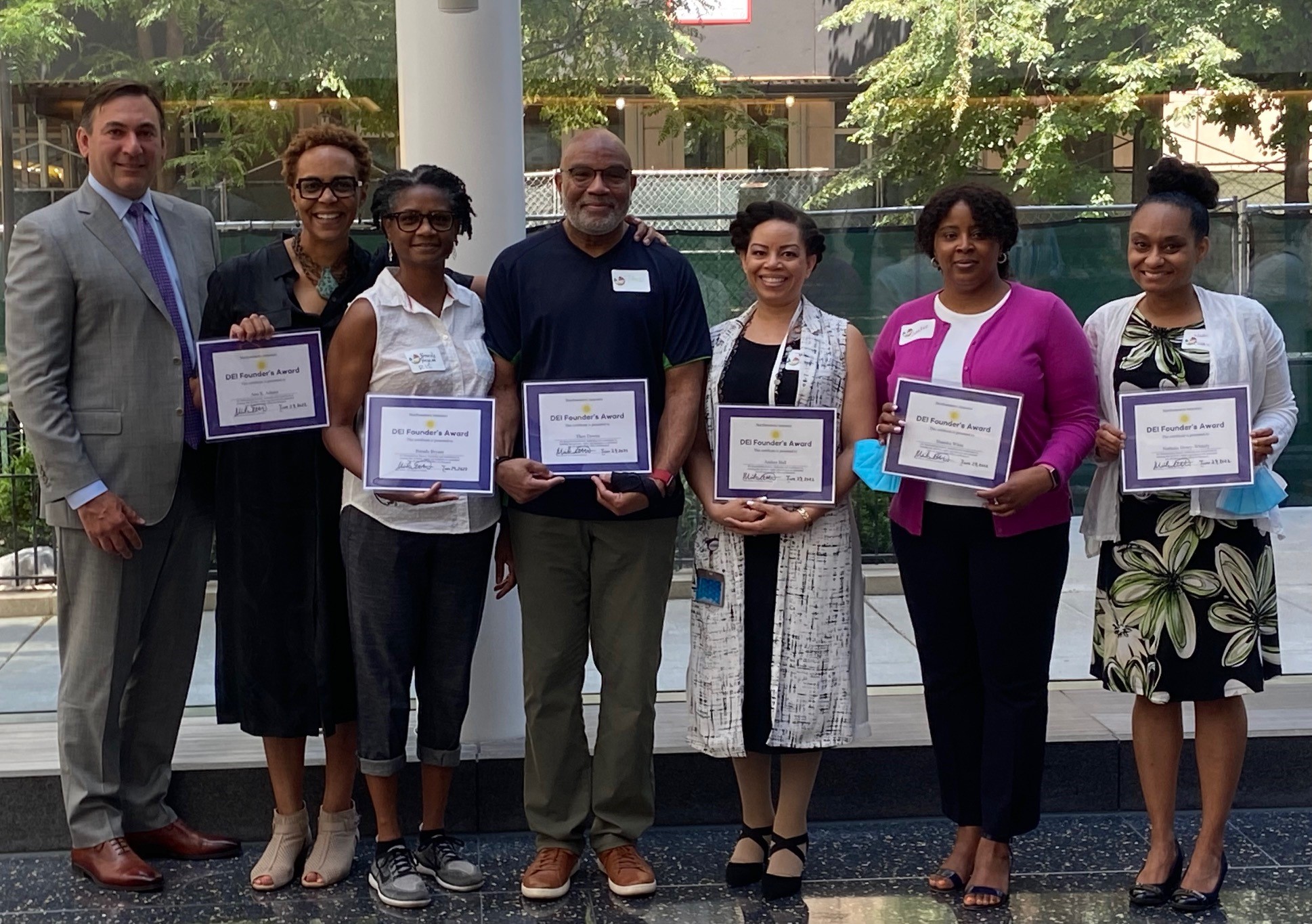 The Office for Research (OR) administrative team celebrated staff during a June 29 recognition luncheon on Northwestern's Chicago campus. The long-running program, called OR STAR, provides a way for OR colleagues to nominate peers for exceptional efforts and outcomes, beyond their standard responsibilities. "Our staff matter every day, but today we put your work into the spotlight," said Vice President for Research Milan Mrksich during his remarks. He also praised the OR team for showing "leadership and resilience" throughout the pandemic. Co-winners of the summer OR STAR Leadership Award were Julie Cowan, designer on the Research Analytics team, and Beth Irwin, sr. analyst in the IRB Office. The two were among 11 overall nominations and were recognized for co-chairing a team focused on enhancing workplace culture and innovation – including by helping develop and implement the OR Values: empathy, accountability, fairness, community and creativity. The event also introduced a new award: DEI+ Advocate. Future nominations for this award will recognize those who demonstrate courage in furthering DEI by modeling behavior that cultivates inclusion and equity within OR and beyond. VPR Mrksich also paid tribute to several colleagues with the DEI Founders Award for their commitment to catalyzing diversity, equity and inclusion in the workplace. Those individuals (pictured above, with Mrksich, from left) are Ann K. Adams, sr. associate vice president for research; Brenda Bryant, project manager, Research IT; Theo Downs, manager of user support systems, Research IT; Andrea D. Hall, executive director for research facilities at Feinberg School of Medicine; Shandra White, assistant vice president, Sponsored Research; and Nathalia Henry Whitely, executive director, IRB Office.  OR's DEI focus has included sustained training, conversation, outreach and a dedicated unit and strategic plan.
Reminder: Human research protections training 
Those engaged in human research at NU — anyone who has obtain informed consent, interacts with participants, and/or has access to participants' identifiable information — must complete human research protections training and re-certify their training every three years. To ensure this training is recognized by the Northwestern IRB, all human participant researchers must also have an eIRB+ profile. Good Clinical Practice and Responsible Conduct of Research do not meet Northwestern IRB training requirements. PIs should identify their study teams and determine any internal or external team members. (Volunteers and interns are "external" team members if they are not issued a NetID.) Guidance on how to update the IRB study team member page is found online. Please contact the IRB Office with questions. 
Dawn Bradley joins OR as executive assistant
The Office for Research welcomed Dawn Bradley to the team, effective July 18. In her newly created role as executive assistant, Dawn reports directly to VPR Milan Mrksich and will play an important part in managing and overseeing the daily operations for the VPR's office, including coordinating the VPR's schedule and interactions with guests and callers. Dawn brings extensive and comprehensive executive support experience to Northwestern, including from her recent role at the Chicago Mercantile Exchange Group where, since 2014, she had been an executive assistant for senior leaders and teams. OR is delighted that Dawn has returned to Northwestern, where she earlier in her career had supported the associate VP for research operations.  
IPR study: More people with depression buying guns
A recent survey finds that about one-third of those with major symptoms of depression currently own a gun or plan to buy one. Conducted by a multi-university group of researchers including political scientist James Druckman, an Institute for Policy Research fellow, the study examined links between record numbers of people who bought a firearm and the sixfold increase in depression since 2020. Other surveys have explored depression and COVID-19 and connections between depression, conspiracy beliefs and violence.
PAS affiliate explores 'medical heritage'
Program of African Studies faculty affiliate Helen Tilley (history) is a part of an international team examining African medical heritage and 'object' biographies in the University of Glasgow's Frank Willett Collections. Other participants include members of University of Glasgow Archives and Special Collections, and scholars from Nigeria, Britain, France, Algeria and the U.S. The project's goal is to make Willett's collections more accessible and meaningful globally. Willett was a member of Northwestern's Department of Art History from 1966 to 1976. 
NUCATS Town Hall showcases resources, future
Now in its 14th year, the NUCATS Institute has expanded and enhanced its capacity to accelerate innovative and inclusive clinical and translational science to improve human health for all communities. NUCATS Director and Associate Vice President of Research Richard D'Aquila, delivered a Town Hall-style presentation on July 7 that highlighted the center's mission and strengths, while seeking to shape its future through feedback and engagement with those who use NUCATS services.
Northwestern experts help advance Chicago water safety
Northwestern Center for Water Research (CWR) affiliates have continued their partnership with water innovation partner Current. NU graduate student Colleen O'Brien (environmental engineering) conducted analyses that contributed to creating a real-time reporting algorithm for the new H2NOW water quality monitoring effort in the Chicago-area waterways. This tool launched in 2021 but was recently updated and improved to provide "real-time information for kayakers, walkers, diners, and other residents and visitors who want to know about the health of the Chicago River," according to Current, whose scientific advisory board includes NU Engineering Prof. Aaron Packman, CWR director. The tool reports from three separate locations every 15 minutes.
Dive deep into NSPM-33 guidance
Register now for a webinar focused on NSPM-33 Implementation Guidance and how impending policy changes will impact NU researchers and research administrators. Shandra White (Sponsored Research) and Kate Booth (COI) present this hour-long session on July 28 as part of Sponsored Research's Summer SPA Series. A recording will be available on demand after the live event.
CIERA scientists to use Webb Space Telescope
After releasing its first full-color images from the James Webb Space Telescope (JWST) on July 12, NASA transitioned its new telescope to scientific operations. Two astrophysicists from the Weinberg College of Arts and Sciences have gained early access to the telescope, beginning their observations this summer. Allison Strom will lead the CECILIA (Chemical Evolution Constrained using Ionized Lines in Interstellar Aurorae) Survey, which will study the chemistry of distant galaxies. Farhad Yusef-Zadeh will contribute to a team studying star formation at the heart of the Milky Way galaxy. Both faculty members are affiliated with the Center for Interdisciplinary Exploration and Research in Astrophysics (CIERA), which attracts University-wide talent to pursue scientific advances. "Probing the universe in the infrared window with a large telescope flying at the L2 point a million miles away feels like science fiction," said Yusef-Zadeh, adding that the JWST makes the seemingly impossible a reality.  Learn more about the research.
June 2022

Destination:
 

CERES
NU research community names new electronic sponsored research administration system

Last fall, Northwestern announced the launch of the Sponsored Research Administration Transformation Program, which includes replacing InfoEd as the University's pre-award research administration system. The news also presented an opportunity for Northwestern stakeholders to name the new system, something they enthusiastically did with more than 80 entries submitted in a contest. The community upvoted 10 finalists with the winner — CERES (Central Electronic Research System) — being unveiled during a June 7 webinar hosted by Associate Vice President for Research Rex Chisholm and Executive Director of Sponsored Research Shandra White. The event also outlined reasons and benefits for the system change: NU's research portfolio grew 34% over the past 5 years and continues to climb, necessitating technology enhancements to meet the growth through greater transparency, efficiency, and agility. CERES is expected to make information easier to find, access and process in a user-friendly system. It also reduces some manual efforts through automation. In addition, the program includes the redesign of a research administration data analytics environment (Data Mart) to support business functions. Susan Frei, senior research administrator in the Feinberg School's Institute for Public Health and Medicine, submitted the winning name, which nods both to astronomy — by referencing the dwarf planet — and the humanities — by referencing the Roman mythological goddess. Each entry in the name-the-system contest was placed in a raffle for a random chance to win a new smart watch. Julie Cowan, designer on the OR Research Analytics team, won the prize. Project updates and additional information, including the overall program implementation timeline, is available online. Information was also shared in this month's CLEAR meeting. 
Staff promotions and changes
The Office for Research (OR) congratulates Executive Director of Sponsored Research Shandra White for her well-deserved promotion to assistant vice president for sponsored research. Since joining Northwestern in 2019, Shandra's leadership has helped strengthen a crucial administrative unit in the University's research ecosystem, responsible for helping oversee more than $900M in annual sponsored research funding. Congratulations also to Director of Corporate Engagement Jim Bray who has been promoted to senior director of that office, which is responsible for bringing University talent together with corporate partners. A member of the team since 2013, and director since 2015, Jim has led efforts to bolster this unit's various efforts. OR also recognizes the outstanding service of Peter Anderson, senior accounting specialist on the Research Financial Administration team. Peter joined OR in 2015 and will be retiring effective July 1. Peter's colleagues wish him all the best and thank him for providing the office with his unflaggingly excellent customer support.
NU astronomists play starring role in discovery
CIERA Director Vicky Kalogera, Einstein Fellow Maya Fishbach, and Board of Visitors Research Assistant Professor Zoheyr Doctor are featured in the June edition of Sky & Telescope, which focuses on astronomers' use of gravitational waves to deepen understanding of black holes. The article also highlights Research Assistant Professor Aaron Geller's 'Masses in the Stellar Graveyard' visualization. Kalogera played a leading part in the pioneering discovery of gravitational waves, and she and several CIERA colleagues remain active in ongoing research in this and related areas. CIERA is one of 40 University-wide, cross-disciplinary research hubs that attract talent from across Northwestern to pursue high-impact knowledge and innovation. Its breakthrough science is partially advanced by generous philanthropic donations that support the Board of Visitors Professorship and the research institute's K-12 STEM program.
NU policy experts fight gun violence with knowledge
A landmark study by sociologist and Institute for Policy Research faculty fellow Andrew Papachristos and his colleagues at Northwestern and the University at Albany, SUNY investigates the lives and conditions of community violence intervention workers who play a key role in violence prevention. The survey, which collected responses from 93% of workers in Chicago, reveals they experience shockingly high levels of violence exposure on the job--as high as, and possibly even higher than, other traditional first responders, such as police and emergency medical technicians, who often arrive at a scene of violence after the intervention workers do. "Understanding and supporting this vital workforce is essential in building community-based responses to violence," said Papachristos.
New series to turn ideas into ventures
INVO is hosting a seven-week virtual discussion series, INVOForward, that explores translating digital health innovation into commercial opportunities. The lecture series helps attendees understand the elements necessary for creating a compelling business model, becoming competitive for accelerator/incubator opportunities and attracting potential external partners or investors. Learn more.
Avoiding Loss of Data in Student Accounts
A graduating student's OneDrive account is deactivated, and any content in the account is deleted when the individual's NetID is removed approximately 148 days post-graduation. If you are working with a student whose account contains shared research or other essential data that needs to be retained, please transfer the data to a SharePoint account before the account's removal. Read more about how to move files and folders between OneDrive and SharePoint.
Save the date for Research Day
Northwestern's annual Lewis Landsberg Research Day is a campuswide event to share research with colleagues. This year's event is Thursday, Sept. 15, from 1 to 5 p.m. on the Chicago campus. The keynote speaker will be Joshua Denny, MD, MS, and CEO of the National Institutes of Health's "All of Us" Research Program. Learn more about the event.
Threats, innovation focus of water symposium
Northwestern's Center for Water Research (CWR) and Israeli Innovation Project (IIP) recently hosted the Sixth Annual Symposium on Water in Israel and the Middle East. The daylong virtual event highlighted various challenges related to water scarcity and sustainability. While the focus was on the Middle East, issues of water security have local, regional and global importance. The symposium, open to the public, featured researchers from Northwestern and Tel Aviv University. In his opening remarks, Vice President for Research Milan Mrksich noted the importance of university research and cross-institutional collaborations to advance both basic science and breakthrough translation that helps address urgent global problems. Watch the session.
OR team 'Races Against Hate'
The Office for Research (OR) fielded a team to participate in the 2022 Ricky Byrdsong Memorial Race Against Hate, an annual marquee community event that unites people across Chicagoland in a stand against racial hatred. Several members from OR ran, walked or supported the June 19 race that originated in 2000 in memory of former Northwestern basketball coach Byrdsong who was murdered by a white supremacist in 1999. Proceeds from the race are used to further the mission of YWCA Evanston/North Shore, in particular its efforts in the areas of racial justice and violence prevention.
Valuable new Incident Assessment Tool

 available
The IRB Office is excited to announce the new Incident Assessment Tool (IAT)! This resource will help reduce burden on the research community by assisting PIs in determining whether an incident meets IRB reporting criteria and how to document such incidents -- including a root cause analysis and robust Corrective and Preventive Action (CAPA) plan. It also indicates what information the IRB expects to see in a robust Reportable New Information (RNI) submission.  During the IAT's initial launch, we are requesting that researchers complete a brief online survey to share their opinion of the tool. Your participation will help the IRB Office improve its guidance and services to the research community.  Find the IAT and survey online. We appreciate and value your feedback. Questions or comments? Just contact us. We also invite you to join us for our monthly Brown Bag sessions, including the next one scheduled for July 20. 
Reminder: new guidance for research documentation
The IRB Office recently announced new Guidance for Principal Investigators: Research Document Retention Requirements (HRP-1914). Here you will find PI responsibilities, requirements, and guidelines for research document retention, including research records or study files, research data/source documentation, consent forms, HIPAA authorizations, and more. The IRB Office also welcomes members of the NU research community to its monthly Brown Bag sessions, including the next one scheduled for July 20.
May 2022
Outreach effort aims for inclusion and excellence
Partnership offers immersive internship experience in Northwestern core facilities
Northwestern's core facilities are hosting six students from Chicago State University for a 10-week paid internship starting this week. The program, which will primarily have a biomedical focus, provides hands-on experience in NU's state-of-the-art research laboratories in Chicago and Evanston and aims to help expand career opportunities in the sciences for participants. The initiative has strong backing and involvement from the Office for Research and several of the University's core facilities -- the shared laboratories whose instrumentation and scientific expertise are vital for about half of Northwestern's research activity. The student experience kicked off this week with campus tours, a luncheon, and engagement with core facilities representatives and research leadership, including VPR Milan Mrksich, Sr. AVP Ann Adams, and Core Facilities Administration Director Andy Ott.
Upcycling polyester could reduce plastic waste
Early research by Chemistry of Life Processes Institute (CLP) members Monica Olvera de la Cruz and Danielle Tullman-Ercek supported by CLP's Cornew Innovation Award, has led to the development of a new technique that could help engineers develop solutions for removing microplastics from rivers and oceans. Learn more about this important work. CLP is one of some 40 University Research Institutes and Centers that fuel cross-disciplinary discovery and innovation from throughout Northwestern. 
Virtual training offers holistic insight
Those looking to better understand Northwestern's research ecosystem will benefit from a valuable online training resource: "Introduction to Research Administration." The program provides an accessible overview of OR and other offices that support the University's thriving research enterprise, as well as an intro to research administration at Northwestern. Whether you are new to NU, taking on a new research admin role or simply looking for a refresher that explains how a great multifaceted administrative team facilitates world-class research, this course is for you! Review the curriculum online. Take one or all included modules at your own pace, whenever you have time.
Register for NU webinar on catalysis
 Catalysts help accelerate chemical reactions and guide reactants towards the desired products. They are crucial in minimizing energy use and waste production, and so feature in more than 90% of all industrial chemical production. Discover the rich history of catalysis work at Northwestern and current catalysis research trends in this vital industry. The session will be led by the McCormick School's Justin Notestein, professor of chemical and biological engineering and the director of the Center for Catalysis and Surface Science (CCSS), one of Northwestern's highly interdisciplinary University Research Institutes and Centers. Find more details about the webinar and register here. You can also learn more about Prof. Notestein and CCSS.
Small-scale science aims for big impact
Art and science come together courtesy of NUANCE's scanning electron microscope (SEM)! Watch the latest video from nanojournalism intern and doctoral student Mohammad Behroozian showcasing the award-winning imagery of SHyNE/NUANCE SEM Lab Manager Tirzah Abbott. Behroozian helps reveal the mysterious nano-landscape of radiolarians, a tiny aquatic organism. You'll also learn more about SEMs and how this amazing imaging tool advances NU research. "I hope this video makes SEMs and the 'inner world' more accessible to younger audiences that we depend on to move us forward," says Behroozian, who is producing these videos for SHyNE as part of its K-12 outreach program, "Photos from the Future." This project aims to inspire underserved students and connect them with the exciting nanoscience research that SHyNe makes possible. 
Updated NIH guidance available
The NIH has recently posted updated guidelines for RCR training. Of note are multiple new topics to be covered as applicable in RCR courses. These include subjects such as safe research environments, confidentiality during peer review, secure and ethical data use, and data analysis. The changes must be incorporated into plans for RCR instruction for the 2022-23 academic year and in new and renewal applications for research training, career development, research education and dissertation research grants beginning Sept. 25, 2022. Questions about the new guidelines? Contact Lauran Qualkenbush, senior director of Research Integrity and Training.
Biosafety enhancement
The Northwestern University Institutional Biosafety Committee (IBC) will transition to a new system for review and approval of research involving recombinant and synthetic nucleic acids. The new system, named eIBC, is based on the same platform as eIACUC and eIRB+, allowing for better integration and easier management of your lab's research in accordance with the NIH guidelines. Find more information at Research Safety. 
Engaging community, advancing opportunity
Service excellence and stakeholder engagement are essential to OR's success within Northwestern. And the office has actively explored additional ways to make a broader community impact — including by participating in the iKit Careers Internship Program for graduating Evanston Township High School seniors. The 12-week program, part of Evanston's summer youth employment initiative, supports career development by offering paid, on-the-job experience. The Research IT staff is excited to be sponsoring a student intern and will provide that person with a robust overview of IT's critical role in Northwestern's research and teaching ecosystem.
Saluting staff: promotions and hires
The IRB Office continues its robust support of NU's research enterprise by overseeing human participant studies. The unit's excellence and productivity is the result of its outstanding staff and strong leadership rooted in the OR Values. In fact, IRB Office members recently praised Executive Director Nathalia Henry Whitley for her many leadership skills and personal traits on Northwestern's Gratitude Wall. Several team members also have been promoted, including: Nazneen Ali to HRPP education and communication specialist; Angela Baumgartner to lead compliance analyst; Marcella Cooks to IRB reliance manager; Piper Hawkins-Green to associate director, IRB compliance and reliance; Lisa Linn to associate director of IRB operations; and Candy Melara to IRB analyst. Congratulations to all for their well-deserved advancement! We also welcome new IRB analysts Elizabeth Barajas (from the IACUC Office) and Katherine Wright. Additional details about the team, and other IRB Office news, appears online.
New guidance available from IRB Office
The IRB Office is pleased to announce the new Guidance for Principal Investigators: Research Document Retention Requirements (HRP-1914).  Here you will find PI responsibilities, requirements, and guidelines for research document retention, including research records or study files, research data/source documentation, consent forms, HIPAA authorizations, and more. 
April 2022
Northwestern's Sponsored Research Administration Transformation Program advancing on schedule
The Sponsored Research Administration (SRA) Transformation Program has met its key milestones since being announced in November 2021, including onboarding targets. The program now enters an exciting phase in the implementation of Northwestern's new e-research administration system and corresponding analytics environment. Project teams have started system design and development and will soon begin testing functionality. In addition, the entire Northwestern community can get involved by participating in a contest to name the new system. Participants earn a chance to win a new smartwatch. 
IPR's business team supports faculty excellence
Francesca Gaiba, senior director of operations and outreach for Institute for Policy Research(IPR), shares her process for successfully building a team and improving key services to bolster research output and impact at one of Northwestern's prestigious, interdisciplinary knowledge hubs. Her secret ingredient? "The amazing IPR staff, who understand that their priority is to provide the highest level of service to our faculty fellows." Gaiba identified a need for the business team "to increase in size to accommodate the growth in size and complexity of the faculty grant portfolios." Learn more.
Possible 'Seismic Shift' in data management and sharing
A new NIH data management and sharing policy going into effect in January 2023 has the potential to significantly impact the worldwide sponsored research community. Read more.
NUCATS resources available on revamped webpage
The NUCATS Institutes recently redesigned its REDCap landing page (one of the most visited pages at the medical school). REDCap makes managing research data easier by providing a single location for collection and storage, empowers scientists to design and control forms for data collection, and requires minimal programmer and IT involvement. Learn more about REDCap and its use in this overview guide. NUCATS also maintains a suite of services and resources to support and enhance grant submissions. Regardless of the NIH award being applied for, NUCATS has services and resources that can help researchers and their teams through the process.
Safety Week showcased proactive commitment 
The Research Safety Student Initiative (RSSI) and Research Safety partnered for another successful Safety Awareness Week from April 11-15. The annual event was held virtually and in person this year and featured a focus on fire safety while offering opportunities for other safety-related learning and networking. "Student leaders have been very capable and committed partners to supporting Northwestern's culture of research excellence while reducing potential hazards," said Research Safety Executive Director Michael Blayney, who praised RSSI president Anna Bay and the RSSI Board as well as faculty advocates such as Chemistry Dept. Chair Teri Odem and her colleagues.
New IRB Guidance and Policy
The IRB Office released Guidance for Determining Engagement in Human Research at Northwestern University and Affiliated Institutions and a Policy defining the appropriate Use of Northwestern IRB Services. You can find the guidance online on the office website.
Steve Matz promoted
Congratulations to OR colleague Steve Matz who has been promoted to senior director of facilities and planning within the Office for Research. As director of this unit since 2016, Steve has been instrumental in helping support the space needs for administrators and researchers throughout the pandemic. He also has helped lead important office redesigns and renovation for OR on both the Evanston and Chicago campuses. Members of the OR team can contact Steve directly with any inquiries about facility- or space-related matters.
ARTIFICIAL INTELLIGENCE: AI@NU
AI@NU virtual programming resumes for Spring 2022 with three sessions highlighting AI-related work and research by Northwestern faculty from School of Communication (May 4), Kellogg (May 25), and Pritzker Law (June 8). Presentations are 4:00 to 5:00 pm via Zoom. Additional details here.
March 2022
Biological innovation: new research institute uses cell-free systems for global needs

Northwestern has established a new basic science research institute, the Cell-Free Biomanufacturing Institute, in partnership with the U.S. Army. Its goal is to accelerate the development of synthetic biology technologies for the creation of on-demand and point-of-need products useful to both society and the Army.
With a focus on cell-free systems, a key research area for Northwestern's Center for Synthetic Biology, the interdisciplinary institute will develop a powerful infrastructure to design, create and manufacture molecules, materials and sensors that are unattainable through traditional approaches. It also will train the next generation of scientists and engineers and act as an engine for entrepreneurial growth in Illinois in the area of synthetic biology, a relatively young discipline that uses tools and concepts from physics, engineering and computer science to build new biological systems.
"There is an emerging and growing interest in being able to partner with biology to make what is needed, where and when it is needed, on a sustainable and renewable basis," said Northwestern's Michael Jewett, an expert in synthetic biology and director of the new institute. 
OR launches new training unit
The Office for Research has created a new Training and Development office that will be managed by Mike Lasky, who recently joined Northwestern after a long tenure in the media industry. Lasky brings extensive leadership experience, including from his work at WGN and Tribune Media, where he oversaw training and development for 31 newsrooms across the country. Lasky will support the development of training, including both virtual and in-person learning, across all OR units. Lasky reports to Lauran Qualkenbush, senior director of Research Integrity and Training, who has been promoted to oversee both her current unit, the Office for Research Integrity, and the new training office.
Policy on minors in research
The IRB Office has a new policy, Minors Acting as Research Study Team Members HRP-1004.  Minors (persons under age 18) may not be listed as study personnel in eIRB+ nor be "engaged" in the research (interactions with research participants or their identifiable data).  However, subject to University requirements, a minor may serve as a research intern or volunteer and analyze de-identified data sets and/or perform other administrative tasks.  Please visit the IRB Office's Human Research Policies & Guidance page to learn more and access other important guidance.
NU excellence adds to CBC innovation push
Northwestern's bioscience strengths have allowed the University to contribute to an innovative new program aimed at catalyzing regional biotechnology activity and driving research from the lab toward clinical and commercial applications. Two recent PhD graduates, Elan Ness-Cohn and Schnaude Dorizan, were named Chicago Biomedical Consortium Entrepreneurial Fellows. Both fellows combine their scientific strengths with a passion for mentorship, research translation, and educating others about their work's impact and promise. They will lend their talents to help build Chicago's biotech ecosystem.
Save the Date for next 'Conversations'
The next "Conversations with Senior Leaders" occurs April 6 at 10:30 a.m. in the Thorne Auditorium on the Chicago Campus. Panelists include Senior Associate Vice President for Finance and Treasurer Mandy Distel; Vice President for Operations Luke Figora; Vice President for Human Resources and Chief Human Resource Officer Lorraine Goffe; and Vice President for Research Milan Mrksich. The event will take place in-person with a livestream available here. 
DEI a strategic priority for workplace excellence
OR continues its commitment to creating a workplace where everyone can contribute their full potential. Leadership and staff remain engaged with formal DEI+ education, such as enrollment in Prof. Alvin Tillery's intensive course focused on cultivating the skills for organizational transformation rooted in diversity, equity and inclusion. Nicholas Angeloni, director of research analytics, said the course and training have offered "a great base to kick off ongoing work by equipping me with the tools, language, and awareness necessary for dialogue around DEI with my team, the wider University community, and in my personal life. Most importantly, these experiences have helped me become comfortable with confronting uncomfortable realities and have reinforced that persistence and courage are essential ingredients for making positive change." OR's DEI efforts also include sharing resources and encouraging office-wide conversations around DEI as a core strategic element. OR also is sponsoring a Northwestern pilot internship program with Chicago State University intended to teach technical skills used in core facilities by providing hands-on-access to equipment that is typically not accessible to students. Similarly, the Research IT team recently sponsored a graduating senior from Evanston Township High School for a weeklong job shadowing program intended to introduce students to a range of technology services that support University research.
URICs in spotlight for NU alumni event
Research takes center stage during the upcoming "Day with Northwestern" on April 23. VPR Milan Mrksich will moderate an opening keynote panel discussion featuring three faculty thought leaders from across disciplines: Michael Jewett, director of the Center for Synthetic Biology (CSB); Vicky Kalogera, director of the Center for Interdisciplinary Exploration and Research in Astrophysics (CIERA); and Diane Whitmore Schanzenbach, director of the Institute for Policy Research (IPR). The conversation will explore the many ways these interdisciplinary University Research Institutes and Centers (URICs) catalyze pathbreaking discoveries and translational innovation. Later in the program, another URIC director, ISEN's Michael Wasielewski, will deliver a presentation focused on "demystifying" quantum science.
Biological safety made better
Research Safety and the Institutional Biosafety Committee (IBC) are pleased to announce several planned improvements in Northwestern's Biological Safety Program. The essential improvement is a revised and flexible rDNA registration process, with a similar look as the current systems used by the Intuitional Animal Care and Use Committee and the Institutional Review Board. This new system, called eIBC, will begin a phased implementation in April. Labs will be offered assistance in completing their eIBC registration based on when they are invited to the system. There is no need access eIBC until you've been contacted by Research Safety or IBC Staff. Other improvements will include new training materials, job aids, and supplemental materials to provide a higher service standard. The Biological Safety Program will notify you when it's time to update your registration. Questions?  Contact IBC Staff.
NU webinar: how research can improve health equity
The COVID-19 pandemic increased underlying disparities in health and health care and heightened the necessity of addressing them. NU's Dr. Melissa Simon will address the economic and broader social costs of health disparities during an April 5 free webinar. Her discussion will include how industry can help alleviate and solve inequity in oncology and maternal and fetal health, and contribute to a more productive and healthier future. Find more details and register here.
Program Evaluation Core offers expert services

The Office for Research, in partnership with Feinberg School of Medicine, Weinberg College of Arts and Sciences and McCormick School of Engineering, launched the Program Evaluation Core (PEC) last fall. The PEC provides a range of pre- and post-award evaluation services to help research training program PIs identify program goals, design evaluation plans, draft proposals, review evaluation data, and modify programs in response to assessments. Learn more about PEC services or email the team. 
CIERA postdoc mentors national science winner
High school student Christine Ye, who has been conducting research with Nasa Einstein Postdoctoral Fellow Maya Fishbach since Fall 2020, was named winner of the 81st Regeneron Science Talent Search, taking 1st place and winning the $250,000 top award. Forty finalists, including Ye, were honored during a March 15 livestreamed award ceremony emceed by  "Saturday Night Live" cast member Melissa Villaseñor. More than $1.8 million was awarded to the finalists, who were evaluated based on their projects' scientific rigor, their exceptional problem-solving abilities and their potential to become scientific leaders. Ye's research focuses on the merging of neutron stars and black hole systems detected by gravitational-wave detectors LIGO and Virgo. "Christine reached out to me  after attending my virtual talk at a conference in 2020. After a couple of Zoom meetings, I gave her a research project, which she completed by summer 2021, resulting in a paper we published in Physical Review D," said Fishbach, who met weekly with Ye to monitor her progress. This work led to additional studies of the masses and spins of neutron stars and black holes, a project eventually submitted to Regeneron with Fishbach's recommendation.
NU scientists fuel next-gen recycling
Northwestern researchers have used simple chemistry to address long-standing barriers associated with recycling about a quarter of today's plastics. "This is our case of looking at a class of materials that were considered hopeless in terms of recycling, and using one- or two-step chemistry to transform them into recyclable material with full recovery of properties to see how that can really help address some major issues with regard to sustainability," said John Torkelson, who is a member of the program on Plastics, Ecosystems, and Public Health (PEPH)
February 2022
Sustainable breakthroughs with synthetic biology
New research advances potential for a greener future
An interdisciplinary research team led by Center for Synthetic Biology director Michael Jewett has continued to make advances that promise to transform industrial biotechnology, using microbes to produce chemical products more sustainably than can traditional oil-based processes. Gases emitted in industrial pollution, such as the greenhouse gas CO2, can be converted into useful chemicals with engineered bacteria. Jewett and colleagues — including longtime collaborator Michael Köpke, VP of synthetic biology at clean-energy startup LanzaTech — recently optimized a strain of C. autoethanogenum, a bacterium that naturally produces ethanol from metabolized carbon oxides, to demonstrate the production of acetone and isopropanol, two chemicals with a combined global market of more than $10 billion. In doing so, the researchers achieved high efficiency and selectivity in an industrial-scale pilot experiment. Whereas existing processes for manufacturing these chemicals from petroleum or natural gas contribute to climate change, the system described by the researchers fixes more carbon than it emits and therefore has a negative carbon footprint. The research was published Feb. 21 in Nature Biotechnology.  
McCormick's Jian Cao elected to National Academy of Engineers

Northwestern Engineering's Jian Cao, whose work has led to innovative manufacturing processes and systems that have resulted in increased material manufacturability and more flexible, energy-efficient manufacturing, has been elected to the National Academy of Engineering (NAE). Cao, part of the senior leadership team in the Office for Research, was recognized for her exceptional achievements in advancing next-generation manufacturing processes, including in her capacity as director of the Northwestern Initiative for Manufacturing Science and Innovation (NIMSI), one of some 40 University Research Institutes and Centers attracting cross-disciplinary talent. "I am truly honored and humbled by this recognition, which I owe to the creativity and hard work of my students and postdocs and to the great support I have received from my Northwestern colleagues," said Cao, an award-winning researcher with more than 200 publications and 20 patents. Her election to the NAE positions her among the nation's finest engineers, and she joins 18 other McCormick colleagues in that prestigious academy. Learn more about Prof. Cao and her efforts to make manufacturing more efficient and environmentally friendly in this research profile (2019).
Northwestern water experts track COVID
Northwestern researchers continue to play an active role in advancing the science around water insecurity, climate change impacts, and wastewater surveillance during the COVID-19 pandemic. Faculty affiliated with the University's Center for Water Research (CWR) have helped analyze data from Chicago's sanitation system to monitor and even predict pandemic trends. A recent article in Discover Magazine showcased the efforts and featured Northwestern's Aaron Packman, CWR director. "The infectious disease tracking system in this country was set up 50 years ago," Packman says. "And it basically relied on people going to hospitals. But now it's absolutely clear that we will do a better job of identifying public health problems and responding to them if we combine the clinical and environmental surveillance information. That's the new frontier."
New colleague joins research safety team
Northwestern welcomes De'Vona Glover, proud native Southside Chicagoan, as the new Interdisciplinary Laboratory Safety Specialist within Research Safety. She will be working on the Chicago campus in support of laboratory safety, specifically radiation and laser safety. De'Vona received her bachelor's degree in cell and molecular biology from Grand Valley State University and has worked in various capacities in academic settings throughout her career, including as lab manager and research technician. In her spare time, De'Vona enjoys watching and playing basketball, strength training, and spending time with her family.
Updated COVID-19 resources

Please continue to follow the Northwestern University guidelines, your hospital/clinic's guidelines or the IRB Office's updated COVID-19 symptom pre-screener and other relevant departmental notices in mitigating risks to the study team and researchers. Use the pre-screener for human participants and anyone who must accompany the participant before they arrive on campus for in-person research study visits. Researchers who conduct study visits at a non-clinical facility must use this pre-screening tool.  In addition, a recent IRB memo states that researchers proposing to list COVID-19 vaccination or testing as Inclusion/Exclusion criteria must provide a scientific justification. More information appears on the IRB Office's webpage.
ANTEC enhances training during pandemic

The Analytical bioNanoTechnology Equipment Core (ANTEC) provides access and training for user-operated analytical and preparatory instrumentation, as well as professional scientific illustration services for Northwestern University and Chicago area researchers. In response to the COVID-19 pandemic, Core Facilities Administration provided funding to create online training procedures to ensure that ANTEC users receive consistent training that can be referenced in the future. Learn more.
Box migration guidance and resources

Reminder: Northwestern is transitioning from Box to Microsoft cloud-storage platforms, OneDrive, and SharePoint, by August 2022. Moving to OneDrive and SharePoint for cloud storage leverages the University's strategic partnership with Microsoft to provide many of the same capabilities as Box while also enabling seamless integration with other powerful Microsoft 365 collaboration tools like Teams. This overview outlines steps that occur immediately after your migration and explains what happens to your Box contents. These additional resources will help users become acclimated to using OneDrive and SharePoint in their workflow.
ISEN strategic plan puts sustainability in focus

The Institute for Sustainability and Energy at Northwestern (ISEN) released its new 2021-2025 Strategic Plan: Bold Discovery, Global Resilience. ISEN's strategy builds Northwestern's capacity for sustainability and energy research, education, and engagement with goals designed for speed, scale, and impact. Interact with the plan online to consider how you might participate.
January 2022
Policy-focused research continues to explore pandemic's social impact

Northwestern announces second round of projects funded by $1M Peterson Foundation grant
As the COVID-19 pandemic approaches its two-year mark, Northwestern researchers continue to confront the public health threat along various fronts. In addition to launching biomedical investigations to help understand and fight the virus, University faculty have pursued other research streams to mitigate current risks and bolster institutional frameworks for future shocks. These include projects fueled by the Peter G. Peterson Foundation Pandemic Response Policy Research Fund, an initiative launched last April to evaluate policies and actions during the pandemic and to explore potential future recommendations to strengthen public health. The latest research efforts involve faculty from the Kellogg School of Management and Feinberg School of Medicine. Investigations include studying: the impact and economics of telehealth; ways to increase resilience of the healthcare system; tactics to counter harmful health effects of COVID-19 conspiracy theories; COVID-19 surveillance tools; and student loan forbearance during the pandemic. Read more about the new research.
Important guidance update for researchers

Northwestern has updated its guidance to help safeguard faculty members against improper foreign interference in their research. Researchers and their teams are strongly encouraged to carefully review this information, even if they are familiar with the University's previous guidance. In addition, faculty and staff will be asked to update their disclosures in February. Please watch your email for reminders about this process and encourage colleagues to complete their disclosures promptly in February. Questions about what should be disclosed? Ask NUCOI.
NIH updates coming soon
New eRA Commons requirements and Other Support signature requirements, along with a new form set, will become effective for any proposals with due dates of Jan. 25, 2022, and beyond. Read more.
Report shows NU invention thriving
Despite the ongoing pandemic, Northwestern's research innovation and translational activity remains strong. The newly published FY21 Inventive Activity Report showcases that exceptional work, which includes: 15 faculty startups, 235 inventions disclosed, 240 patents issued (out of nearly 700 applications from NU researchers), and $4.8 million in licensing revenue.
Updated consent template

The IRB Office now offers a new Biomedical Consent Form Template (HRP-529) under "Resources & Guidance" within the Consent Templates section of its website. This new version has added instructions and minor changes to template language. Researchers should use this version of the template for any new projects and when making revisions to existing projects.
New IP reporting requirement

Current and future AHA awards must complete an annual Intellectual Property report for each award, due by Jan. 31. To prepare for this new reporting procedure, we ask that PIs on current awards complete the TTO deliverable in Proposal Central as soon as possible and add Andrea Minogue as TTO.
Innovation supports research excellence
As a proponent of exemplary and humane research practices — including the  "three R's" — Northwestern's  CCM team has implemented environmental health monitoring in its animal care facilities. This innovative monitoring uses a filter placed in the ventilated racks that house research rodents. The filter is then tested and plays a vital role in informing the CCM veterinary team if rodent colonies are free of adventitious infectious agents. This environmental health monitoring helps CCM ensure rodent colonies remain healthy and support high-quality research. At the same time, this approach reduces the number of animals in the University's research enterprise.
Get answers to your research questions

The IACUC Office is pleased to announce an education opportunity for research faculty, staff and students.  Mark your calendars to join us on Feb. 24 at noon to learn about the benefits of Post Approval Monitoring, including resources and tips to avoid noncompliance. This also is a great opportunity to obtain answers to a scenario or insights into any "what if" questions you have been curious about.  An invitation and registration link will be emailed.
NU Africana scholar helps expand poetry portal
Esmeralda M. Kale, the George and Mary LeCron Foster Curator of Northwestern's Melville J. Herskovits Library of African Studies, is part a global research team expanding the African Poetry Digital Portal. The portal documents the work of African poets and offers access to creative and intellectual artifacts, materials, and research. The project is funded by a three-year, $750,000 Mellon Foundation grant. Stay connected with related scholarly initiatives via the Program of African Studies website.
Mapping the materials genome

Researchers at Northwestern and the Toyota Research Institute have successfully applied machine learning to guide the synthesis of new nanomaterials. The highly trained algorithm combed through a massive dataset to accurately predict structures that could fuel processes in clean energy and other industries. International Institute for Nanotechnology Director Chad Mirkin says that AI offers a means to "define and mine the materials genome."