How Art Helps Keep Northwestern Safe
How Art Helps Keep Northwestern Safe
Art and science converge for Research Safety's Anna Stasek.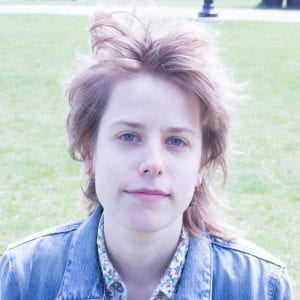 The multimedia designer is part of a team of dedicated professionals whose mission is to help protect the people and spaces involved in Northwestern's multifaceted investigations. Those efforts involve a range of services and training to identify potential hazards in basic science research — and find effective solutions that support the University's bold discovery while safeguarding people, laboratories, and other research facilities.
During the COVID-19 pandemic, Research Safety has also helped spearhead a campus-wide campaign to collect and deliver more than 1,500 N95 respirators and hundreds of disposable gowns and gloves, as well as other urgently needed medical gear, for use by Northwestern Memorial Hospital healthcare workers and others involved in the University's response to the health crisis. They've also produced gallons of hand sanitizer and deployed these resources across the University.
As an art school graduate, Stasek may seem unusual on a team where most of the staff members have the deep technical experience and credentials one might expect from those involved in research safety. But her previous career as a full-time animator at an advertising agency attracted the attention of Research Safety Executive Director Michael Blayney, who noticed the quality of Stasek's work posted on LinkedIn and YouTube and saw the potential for her to contribute to Northwestern. She joined the University in 2016.
Stasek says she has always had a passion for art, music, and biology and began studying for a career in conservation biology before deciding to turn to pursue a formal art curriculum at the University of Michigan. "There, I learned the 'science' of design, the trials and errors involved in creating successful design for people's daily lives, and the importance of taking an idea you are passionate about and running with it to develop it," she says.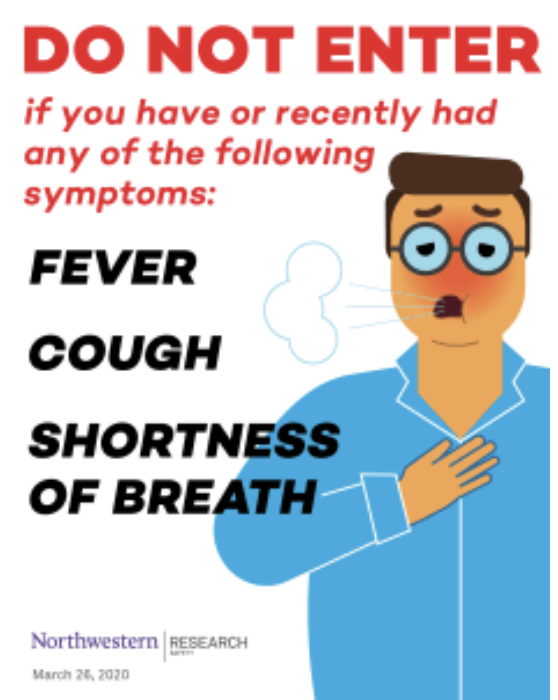 Stasek says she is drawn to the intersection of art and research because both domains are rooted in creativity and a desire to explore.
"Both also tell stories, and I think it's important for any media produced for educational purposes to take viewers on an engaging journey," she says, adding that it's been an "exciting privilege" to help people retain important information through her print, video, and animation products. That information could prove vital for research outcomes and for the wellbeing of those engaged in these investigations.
Since Stasek's work is intended to help keep people safe, it typically reinforces various laboratory protocols. These might include first aid processes or how to work carefully with volatile substances or forces. A recent flier she created about electrical safety will appear in a forthcoming MSD book chapter.
One challenge of working with such serious material is finding ways to make it engaging, and even entertaining, says Stasek. Another challenge is finding ways to distill complexity down into its essence without losing crucial details.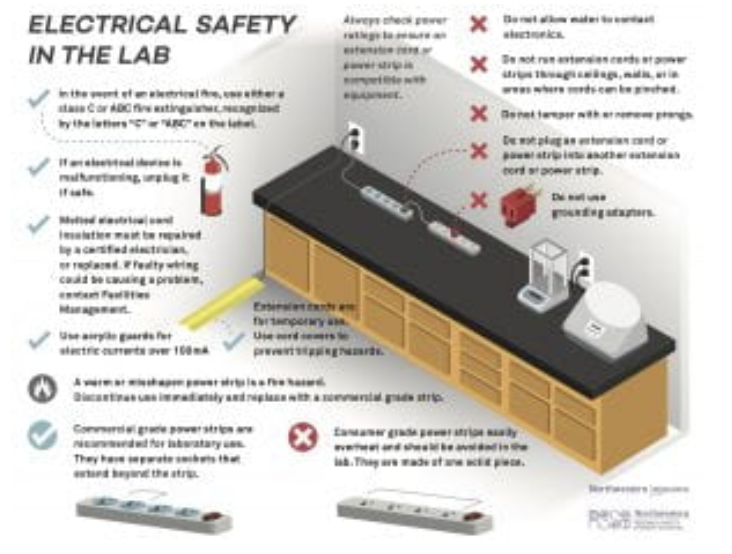 "I've had to work hard to develop my own templates to accurately depict information while following good design principles — and there was a limited amount of creative lab safety media out there in the world," she says. "It takes a lot of thought how to do this without overwhelming the audience, so I spend the most time conceptualizing the best ways to achieve these goals."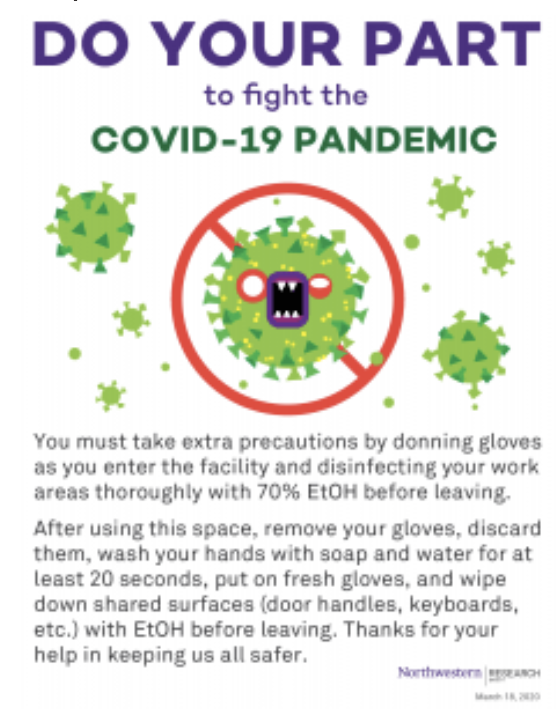 Stasek's work has been well received by stakeholders she most values: the scientific community at Northwestern. "From an artist's point of view, I try to make my work aesthetically pleasing, but artists aren't my main audience, so it's always affirming to hear from scientists that they enjoy my work and that it helps them perform their research safely," she says.
Stasek's boss, Training Manager Cindi Mason, agrees. "Anna's engaging animations and graphic designs have enabled Research Safety to significantly improve its safety training courses and job aids. Her creativity, artistic ability and collaborative nature make her a cherished member of our team."
Among her artistic inspirations, Stasek counts Stefan Sagmeister, a renowned graphic designer who integrates a playful attitude into work that's fresh and exciting. She also cites astrophysicists like Stephen Hawking and Neil deGrasse Tyson who have been able to communicate fascinating scientific discoveries to a broad audience. Similarly, ecologist and writer Rachel Carson — particularly her clarion call to environmental activism in her book Silent Spring — has helped shape Stasek's approach to her own work.
She is also pursuing a master's degree through Northwestern's School of Communication, which she says has already helped her in her professional role too. She's not given up on conservation science, either, which remains a keen interest, nor is she ignoring the harder sciences: "I bought a book on physics that I study. Slowly. So I hope to understand quantum mechanics before age 50."