Pathbreaking catalysis center undergoes change — in leadership
Pathbreaking catalysis center undergoes change — in leadership
Justin M. Notestein, a professor of chemical and biological engineering at the McCormick School of Engineering and Applied Sciences, has been named director of the Center for Catalysis and Surface Science (CCSS), effective September 1.
One of more than 40 University Research Institutes and Centers (URICs) pursuing cross-disciplinary research and teaching, CCSS has a celebrated history dating back nearly four decades. Affiliated with Northwestern's Institute for Sustainability and Energy (ISEN) since 2014, CCSS promotes boundary-spanning research fundamental to the discovery and controlled synthesis of catalysts that help optimize the sustainability of industrial and consumer goods.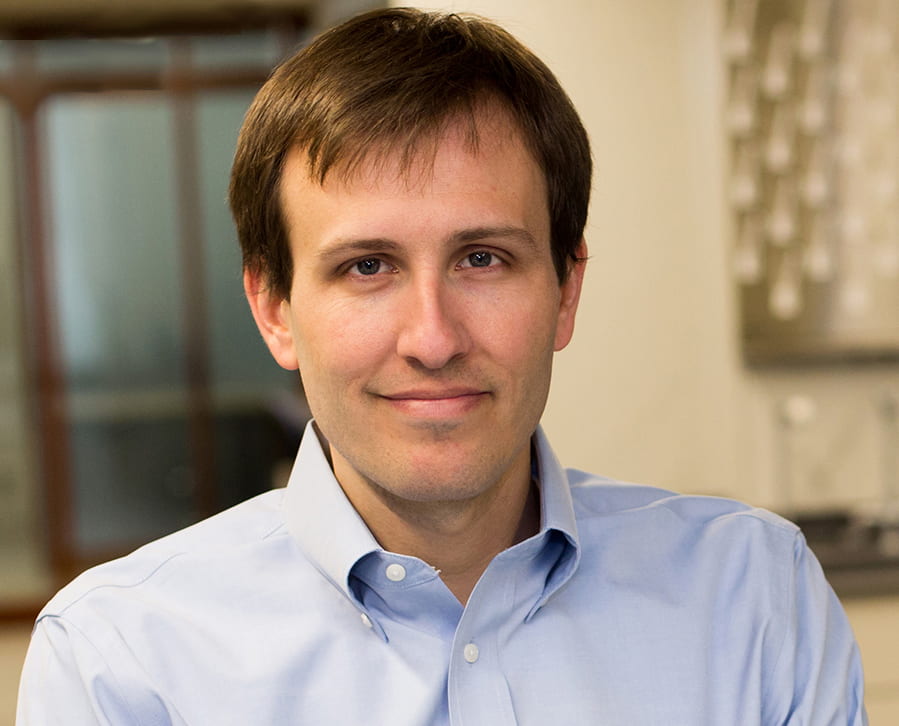 Notestein, who joined Northwestern in 2007 and leads his own research group, will advance the  CCSS mission through interdisciplinary research. He assumes the role held by Kenneth R. Poeppelmeier, the Charles E. & Emma H. Morrison Professor of Chemistry, who has led the center since 2012.
In saluting Poeppelmeier for his leadership over the past decade, Notestein cited his colleague's efforts to raise the center's visibility and research impact. Those efforts included a 2017 symposium celebrating the 150th birthday of former Northwestern chemist Vladimir Nikolayevich Ipatieff, whose seminal work on catalytic research with colleague Herman Pines led to the founding of the high-pressure catalysis laboratory at Northwestern and the eventual establishment of CCSS as a research center in 1983.
Some of the major research accomplishments affiliated with CCSS in recent years include:
Advancing next-generation battery and energy storage technologies for electric and hybrid cars and the electrical grid through the Joint Center for Energy Storage Research, a Department of Energy-funded collaboration with Argonne National Laboratory.
Investigating new ways to increase efficiency of national resources and reduce reliance on overseas sources of energy for transportation through the DOE-funded Institute for Catalysis in Energy Processes.
Discovering catalytic and macromolecular phenomena at the intersection of materials science and chemistry to enable upcycling of energy-rich plastics.
Pursuing novel chemistries associated with clean, efficient utilization of biomass through the Institute for Atom-Efficient Chemical Transformation.
Providing crucial teaching and research on innovative, safe, and relevant catalysis science through the Reactor Engineering and Catalysis Testing Facility (REACT), a shared research space.
During his tenure, Poeppelmeier expanded the REACT facility from a small laboratory on the ground floor of Northwestern's Technological Institute into an 1,850-square-feet space dedicated to enabling coursework and developing proficiency in modern heterogeneous catalysts for students interested in this science. As Poeppelmeier takes on a new role within U.S. Department of Energy's Energy Frontier Research Centers, he and Notestein will continue to collaborate.
"Ken has been an exceptional leader of CCSS, which has been one of our longest-running and high-impact centers," said Vice President for Research Milan Mrksich. "I'm excited that Justin will carry the center forward, with a focus on the frontiers in catalysis science and engineering."
Looking ahead, Notestein said his goals for the center include reestablishing ties to the catalyst industry and to making the center more inclusive. Bolstering industrial connections is central to developing more sustainable consumer-facing products as well as helping to shore up the industry itself, he said.
"Catalysis underpins more than 80 percent of industrial chemical processes, and without catalysts, the process would not be as efficient, or in many cases, possible at all," Notestein said. "Although the catalyst industry itself is not very large, it is responsible for nearly a third of world GDP via its role as an enabling technology for the production of fuels, the abatement of emissions, the production of plastics and other commodity chemicals, and the synthesis of pharmaceuticals and specialty chemicals."
However, it's the goal of greater inclusivity that is perhaps most ambitious. Notestein said he wants to bring more researchers under the center's umbrella, from academics involved in other forms of catalytic research to those working in other disciplines entirely.
"I would like to take an expansive view of 'catalysis and surface science' along the lines of models I have seen for large institutes elsewhere in the world," said Notestein. "This would include researchers in electro-, photo-, and (bio)molecular catalysis. I also hope to expand out our membership, to make sure we are reaching the full community of researchers at Northwestern."
An authority in the field of heterogeneous catalysis, Notestein graduated from the University of California, Berkeley, with a doctorate in chemical engineering. He joined Northwestern as an assistant professor in 2007. His research team explores engineering approaches to atom-precise materials for heterogeneous catalysis and adsorption, focusing on reactions and processes that are essential to developing sustainable fuels and chemicals.
Poeppelmeier said he looks forward to seeing the direction Notestein take the research enter.
"Justin is prepared to forge connections between the many talented CCSS members and the ISEN community, bringing together those who otherwise might never have a chance to work together," said Poeppelmeier. "His leadership strengthens the already strong bonds between the Departments of Chemistry, Chemical and Biological Engineering, and Materials Science and Engineering to form an extraordinary interdisciplinary team of engineers and scientists to help solve our world's most challenging energy and sustainability problems."