Scientific Images Contest and Exhibition Bring Discovery to Life
Scientific Images Contest and Exhibition Bring Discovery to Life
Northwestern researchers once again provided a special glimpse inside the lab, making their scientific pursuits available to peers and the public through the 2019 Scientific Images Contest.
Hosted by Science in Society, the annual contest builds community awareness about Northwestern discovery and offers another way for researchers to showcase their work — including during a December exhibition at Evanston Township High School (ETHS).
This year's grand prize winner was Northwestern postdoctoral student Zachary Nicolaou, a member of Prof. Adilson Motter's physics and astronomy research team. His image, titled "Making Waves," depicts waves forming on the surface of water in a petri dish placed on a vertically vibrating surface. That patterns that emerge — such as the square one in Nicolaou's photo — show "surprising order," he says, and seem to emerge spontaneously.
"Studying their emergence gives insights into the natural patterns we see in everyday life," Nicolaou says, adding that he enjoyed meeting ETHS students and teachers as part of the contest. "It's a fun way to interact and spread excitement about science!"
In fact, the contest aims to bring science and art together. As researchers pursue their work, they often generate aesthetically compelling — even beautiful — images. To scientists, these images represent data. At the same time, non-scientific audiences can view these images as art that can evoke wonder and intrigue, inviting a deeper discussion about their origins and about the broader goals of research.
Launched in 2010, the Scientific Images Contest creates meaningful new opportunities for scientists to engage with Chicago and Evanston residents about the nature, importance, and societal benefit of their work. Each year, Northwestern researchers (and Northwestern-affiliated organizations) are invited to submit their most captivating images to be judged by an interdisciplinary panel with expertise in art, photography, science, and journalism.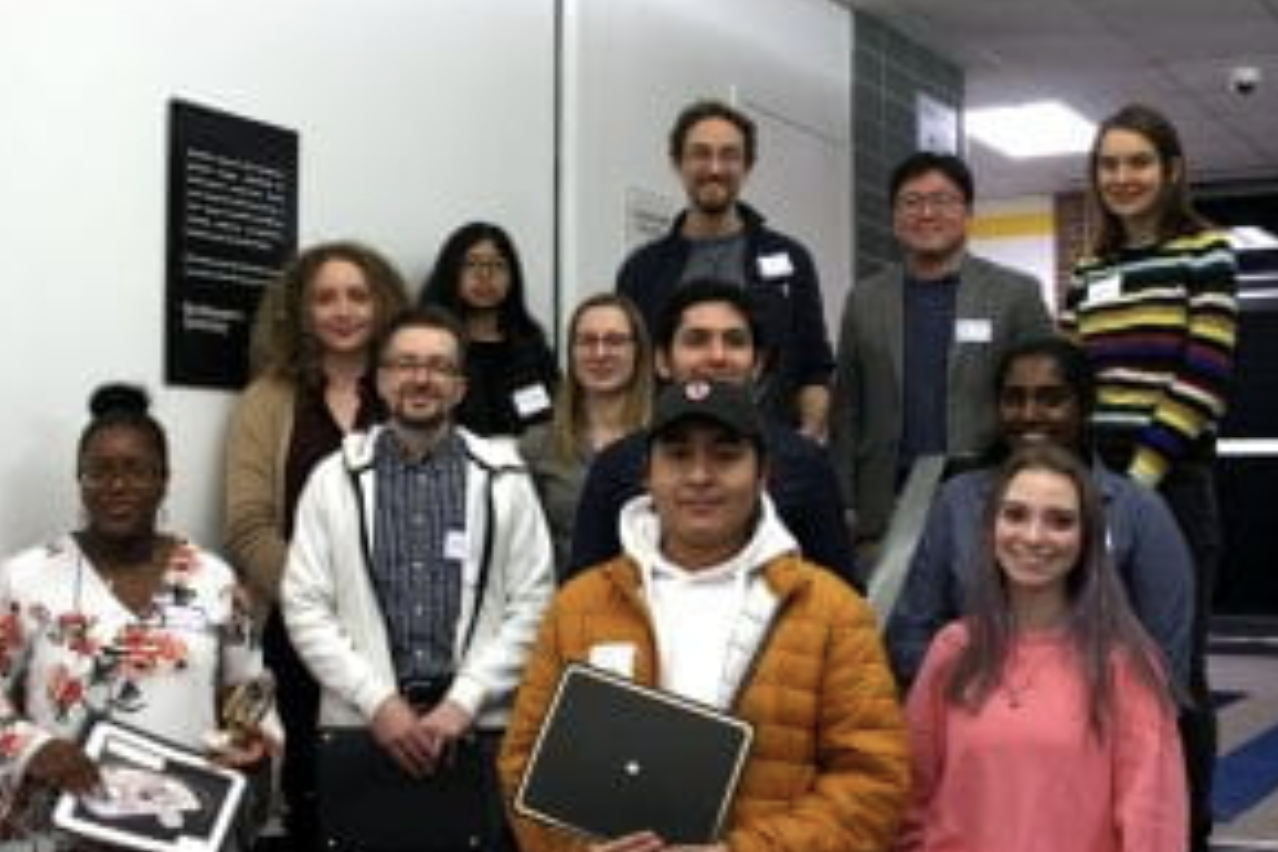 The contest brings University researchers together with ETHS students and faculty for a December exhibition. Front: ETHS art students Joav Silva Bastida and Mia Pitcock. Middle: Northwestern scientists Kelsey-Ann Leslie, Eric Roth, Amy Adkins, Jean Michel-Paumier, and Phalguni Shah. Back: Alexandria Volkening, Yuchen Liu, Zachary Nicolaou, Ken Park and Stephanie Ribet. Not pictured: Northwestern PhD students Samantha Webster, Alexandra Edelbrock, and Yuehan Yao who also contributed images.
Twelve images are selected as finalists by the panel and then printed for the public exhibition at ETHS. The partnership with the high school is unique and fulfills a necessary goal of the Scientific Images Contest: to cultivate innovative  opportunities for Northwestern scientists and the public to come together. In addition, The ETHS Fine Arts Department and physics classes are invited to create their own artwork based on the Northwestern images. ETHS student artists receive digital and physical copies of the selected finalists and then teachers facilitate class conversations and an open-ended art project to create new work inspired by these images without any contextual information. This process is intended to produce a sense of curiosity and deep inquiry into the images' physical characteristics and possible sources.
The partnership culminates in the public exhibition, honoring contributions from the ETHS students and Northwestern researchers. The exhibition is an interactive experience, encouraging the viewer to see the beauty of science and providing the chance for students and the public to discuss research with the image creator.
"This collaboration greatly illustrates the need for the "A" in STEAM education," says Marla Seibold, visual art teacher at ETHS. "Artists and scientists both set out to solve complex problems; they just go about it in very different ways. There's a real excitement when the high school artists meet the Northwestern scientists."
Among the Northwestern departments and centers contributing more than two dozen images to the contest were:
Biomedical Engineering
NUANCE
Materials Science and Engineering
Neurology
Physics and Astronomy
Quantitative Biology
Theoretical and Applied Mechanics