New URICA senior director joins OR team
New URICA senior director joins OR team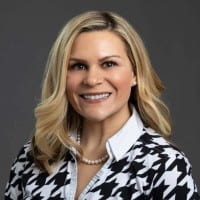 The Office for Research is very pleased that, effective Aug. 1, Natalia Glubisz has joined the team as senior director for University Research Institutes and Centers, Administration and Operations (URICA).
As senior director, Glubisz reports to Associate Vice President for Research Fruma Yehiely and leads a team of five in URICA. The unit is responsible for overseeing research administration and operations of the University Research Institutes and Centers (URICs), interdisciplinary hubs currently totaling more than 35. URICs play a vital role in Northwestern's research ecosystem, helping differentiate and elevate our research eminence. They attract talent from across the University to pursue breakthrough fundamental and translational work with great societal impact.
Glubisz and her team oversee the research administrative and financial activities for the URICs, including quarterly projections and the development of each URIC's annual review. URICA provides guidance and expertise regarding the entire lifecycle of the pre- and post-award administrative process, administrative structure and resources; ensures that all requirements, compliance rules and regulations are understood and followed; and develops metrics for data-driven decision-making and building a vibrant, collaborative community of administrative leadership and staff. In collaboration with the Office for Research HR team, the senior director actively participates in the recruitment process for administrative staff within the URICs.
Glubisz brings to Northwestern more than two decades of experience in research operations and development, as well as a passion for working in a highly collaborative environment. Most recently, she served as executive director for research strategy and administration at University of Chicago. Prior to that, she was research director in the Department of Internal Medicine at Rush University Medical Center, where she was responsible for overseeing the largest portfolio for operations, reflecting 14 divisions. Earlier in her career, she was on staff at University of Illinois-Chicago (UIC), working in various research administration and operations capacities over the years. Throughout her professional career, Glubisz has provided leadership, guidance and mentoring support to faculty and staff across the academic research enterprise.
"I fell into research administration by accident 21 years ago and have never looked back," says Glubisz. "I take pride in knowing I play a small part of being an advocate for research and moving the needle forward from 'bench to bedside.' Research operations is what I am passionate about and I look forward to working with the URICs – to learn about their research and to provide guidance for their continued success."
Glubisz earned a bachelor's degree in communication with an emphasis on public relations and journalism from Loyola University. She also earned a master's degree in healthcare administration from UIC and is a certified research administrator.
—Matt Golosinski